Eat Like the Stars: Herbalife24 Sports Nutrition
Herbalife is the official nutrition sponsor and has a multi-year agreement with Ronaldo. A team of Herbalife professionals work on Ronaldo's nutrition requirement on and off the field and provide expert recommendations.
Visit Surprise de Cristiano Ronaldo in Australia
Down in Australia he ran out of Herbalife24 and found a Herbalife Nutrition Club and they took great care of him. Later he tweeted "Thanks, guys! No matter where in the world, Herbalife's got my back"
Here is the story:
"I got a phone call saying someone wanted to purchase some products," told the nutrition club owner Mr Beckett. "I didn't know who it was." Ten minutes later, a member of the entourage walked in, followed by Ronaldo.
Accompanied by an entourage of three, Ronaldo stayed 30 minutes, which is a generous donation of celebrity time from the player who was in Melbourne for the International Champions Cup.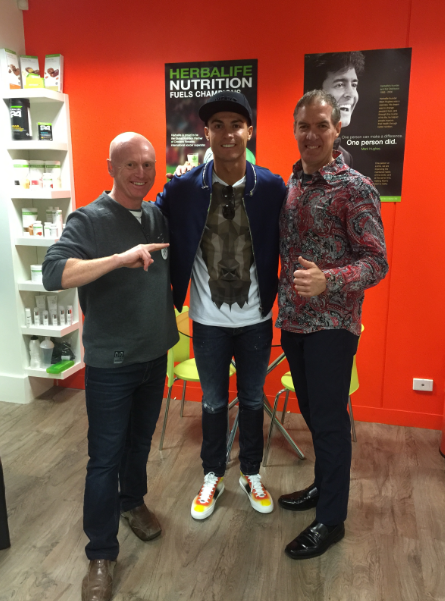 Naturally, Ronaldo received the royal treatment and despite being an ambassador for the company on a five-year contract, he paid for the products. That's a lesson in good manners for other celebrities.
When Ronaldo strolled into Herbalife, Mr Beckett called it his "pinch me" moment. "He was a very unassuming guy, just casual and relaxed. He got what he needed for the next two weeks from a nutrition point of view. He sat down and we chatted about football."
The photo Ronaldo shared with his 104 million Facebook followers, 36.7 million Twitter followers and 23.7 Instagram followers was taken with Mr Beckett's camera. "I thanked him for what he has done for football. I'm a big Manchester United fan and I loved him when he was there. He smiled and nodded."
"Herbalife24 derives from a professional athlete or weekend warrior who are constantly thinking about training, recovery and nutrition," said John Heiss, Ph.D., director of sports and fitness for Herbalife. "These elements tie together to create a line to support athletes on rest and training days."
Seven products were released as part of a comprehensive performance nutrition collection that aims to fuel and recover athletes based on their activity levels and day-to-day training needs.
The products come in mild flavors like chocolate and a cinnamon-like vanilla, and are designed to be more palatable when mixed with water.
"We found that people were diluting their sports drinks to make them taste better so we designed the flavors to be mixed with something like water that's easily accessible," said Heiss.
Herbalife24™ consists of several products that allow athletes to customize their nutrition program based on their specific sport, day-to-day needs and training demands. Each product is tested for banned substances by an independent third-party laboratory (NSF International, Inc.*) assuring athletes that what they put into their bodies is exactly what is listed on the label. Herbalife24™ products do not contain any artificial flavors or sweeteners and include:
Formula 1 Sport: Dairy-based protein meal replacement shake with carbohydrates, and 20 vitamins and minerals, which lays a solid nutritional foundation for performance.
Hydrate: Advanced hydration product with minerals that help in replenishing and rehydration following exercise-induced dehydration and with less than 15 calories and only 1g of sugar.
Prepare: Pre-workout product with creatine, which supports muscle strength, power and performance in repetitive bouts of brief, high-intense activity.
Rebuild Strength: Post-workout muscle building product with a blend of free amino acids, whey and casein proteins, along with vitamins and minerals to help rebuild muscle and repair body tissues after exercise.
Restore: Night time product which helps in connective tissue formation and supports immune function with provitamin A.
"We understand that there is more to performance nutrition than pre-, during, and post-workout products," said John Heiss, Ph.D., director, sports and fitness for Herbalife. "This enables us to support all athletes to take their training and performance to the next level," concluded Heiss.
Herbalife24™ products are available exclusively through a network of Independent Herbalife Members. To find an Herbalife Member or learn more about the products, please visit www.healthyfood.help.
More recently in 2015 Herbalife has launched its new sports drink 'CR7 Drive', in partnership with and according to the nutrition needs of soccer legend, Cristiano Ronaldo.
The new drink CR7 Drive was designed to optimize Ronaldo's performance and address his specific nutritional needs, the company said.
CR7 Drive is an energizing sports drink and helps athletes refuel and rehydrate before and during exercise. It is designed to fulfil the nutrition need of all athletes at all levels. It does not contain any artificial flavors or sweeteners and supplies carbohydrates for energy. It is best suitable for players engaged in soccer, spinning, running, or other sports that significantly increase heart rate.
Like all Herbalife24 products, CR7 Drive has met the standards of NSF Certified for Sport program and does not contain any banned substances.
All Herbalife24™ products are tested by NSF International, Inc. and are Certified for Sport.® based on the following criteria:Tested – Clean of athletic banned substances;Verified – Meets label claims and contaminant test criteria; and audited – Manufacturing facility is GMP compliant.
Herbalife Ltd. (NYSE:HLF) is a global nutrition company that sells weight-management products, nutrition supplements and personal care products intended to support a healthy lifestyle. Herbalife® products are sold in more than 90 countries to and through a network of Independent Herbalife Members. The company supports the Herbalife Family Foundation and its Casa Herbalife program to help bring good nutrition to children. The Herbalife website contains a significant amount of financial and other information about the company at http://ir.Herbalife.com.
__________________________
Independent Herbalife Member - Healthy FooD Nutrition Blog
Buy Authentic Herbalife Products Online :
*Fast Shipping directly from Herbalife Plant
*Freshest Herbalife Products Guaranteed
*Full Service
>>Click here and Get The Best Quality and Service Available
Feel free to contact me! Fill the form below
Follow me